History
Foundation, Kamaboko shop and Restaurant
1916
Motosuke Yanagiya founded the Yanagiya Kamaboko Store in Ube City.

1920
The Yanagiya Kamaboko Store moved to Higashi Ward to open a new store.

1927
Motosuke devised the mechanization of the grinding process, which had been done by hand, and applied a utility model for a Grinding Kneader for Kamaboko.
He started the production of Yanagiya-style Grinding Kneader.
1931
Obtained exclusive patent for Yanagiya-style Grinding Keader.
Yanagiya Dining Hall opened.
Enter to Machinery Production
1932
Yanagiya Ironworks is established. Started full-scale machine manufacturing.

1945
Yanagiya Ironworks and Yanagiya Restaurant were destroyed by air raids.

1946
Yanagiya Ironworks reopened. Manufactured the first postwar Grinding Kneader, the new No. 11 grinder.

1950
Yanagiya Ironworks Co., Ltd. Capitalized at 4.5 million yen.
DevelopedTempura forming machine/stamping type meat separator.

1955
Motosuke Yanagiya is awarded Medal with Yellow Ribbon for contributing to the invention, improvement, and development of fish processing machinery.
1956
Developed 3- and 4-color kamaboko forming machines.
1957
Yukio Yanagiya was appointed president upon the death of Motosuke Yanagiya, president.

1958
Developed Roll-type fish meat sampling machine.
Invention of Frozen Surimi, the age of food industrialization
The first step to the another industry
1959
Developed chemical agitators.

1959
Invention of Frozen Surimi.

1961
Opened the Yokohama office to expand operations.
Developed Food Mixer.
1965
Developed Surimi Plant and Ball Forming Machine.
1967
Moved to new office and factory in West-Ube.
1969
Developed Silent Cutter.
1972
Invention of shred-type imitation crab meat.
1973
Opened the Osaka office.
1974
Invention of stick-type imitation crab meat.
1974
Increased the capital to 13.5 million yen.
1975
Yukio Yanagiya becomes chairperson. Yoshio Yanagiya becomes president.
1976
Increased the capital to 18 million yen.
Developed auto fryer.
1978
Increased the capital to 27 million yen.
1979
Developed Crab Stick Line.
Renaming from Yanagiya Ironworks to Yanagiya Machinery
Development of Ball Cutter / Start exporting Crab Stick Line
1982
Increased the capital to 40.5 million yen.
Developed Ball Cutter.
1985
Company name changed to Yanagiya Machinery Co., Ltd.
1986
Increased the capital to 100 million yen.
Yokohama office changed to Yokohama branch.
1987
Developed Nori(seaweed) Drying Machine.
Developed Chikuwa Line.
1990
Moved to new office and factory in Yoshiwa.
Developed Large-type Continuous Nori Drying Machine.
1991
Opened Sendai office.
Osaka office changed to Osaka branch.
1993
Developed Automatic Tofu Cutting & Packing machine.
Developed Automatic Packed Tofu Cooling Machine.
1995
Developed "BIG-J" - Joule Heating Type Automatic Silken Tofu Production Machine.
1996
Developed Super Multiformer for various industries such as frozen food, Prepared Food, Confectionery, Pet food, and chemical.
1998
Opened EU office in Paris.
2000
Developed Soymilk Squeezer - "Twin Meister".
2001
Developed King Molder.
2002
Head office and factory acquired ISO9001.
2004
Yokohama branch, Osaka branch, and Sendai office acquired ISO9001.
Developed Twin-roll Deoiler.
Developed Uiro Line.
2006
Keidanren (Japan Business Federation) visited Yanagiya.
2007
Awarded "Science & Technology Award 2007" by MEXT for developing Crab Stick Line.
MEXT = Ministry of Education, Culture, Sports, Science and Technology
2009
Chosen for "1400 job-creating Companies" by METI.
Developed IH Fryer.
2011
SME Agency of METI introduced and awarded our acts in "Efforts of Small and Medium Enterprises which rehabilitation at the disaster area from 2011 Tohoku earthquake and Tsunami."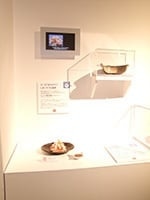 2012
Featured in a well-known business TV program, "The Cambrian Palace"
2013
Crab Stick Line was introduced in an exhibition "THE SEKAI-ICHI - Unique Inspiration Made in Japan"
(Sekai-ichi = the best in the world)
2014
Selected as "Global Niche Top Companies Selection 100" by METI.
2015
Opened Tokyo Sales Head Office.
Changed Yokohama branch to Kanto Branch.
Changed Osaka Branch to Kansai Branch.
Changed Sendai Office to Tohoku Branch.
2017
Rebuilt Kansai Branch building.
2020
Tohoku Branch moved to new building in Rifu.